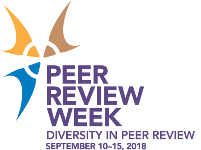 Promoting inclusion and diversity with
#PeerReviewWeek18
Peer reviewers are essential to Wiley's community and the foundation for safeguarding the quality and integrity of scientific and scholarly research. Wiley was one of the founding partners of Peer Review Week with ORCID and ScienceOpen and we are delighted to see that today it is supported by numerous publishers and intermediaries.
The theme of this year's #PeerReviewWeek18 focuses around inclusion and diversity and runs the week of 10th – 15th September 2018.
Our Activities for #PeerReviewWeek18
We have gathered a list of our activities during this week and we would love you to be involved:
Publishing daily blog posts about inclusion, diversity, registered reports and transparent peer review
Tweeting about all our activities with #PeerReviewWeek18 through @WileyOpen and @wileyinresearch and retweeting official @PeerRevWeek tweets
Running a webinar – 'Why publish a Registered Report?' with Eric M. Prager (Editor in Chief, Journal of Neuroscience Research), Daryl O'Connor (Chair, British Psychological Society Research Board) and Nidhi Bansal (Editor-in-Chief, Cancer Reports)
Giving free access of two diversity articles during the whole of September 2018
Download the Wiley preprints 'What does better peer review look like?' and 'Publishing Transparent and Rigorous Scientific Research'
Sponsoring Publons Peer Review Awards as a Gold Sponsor
Contributor to the Publons Global State of Peer Review report
Participating in the Evolution of Peer Review panel at ALPSP Conference with Elizabeth Moylan (Publisher, Research Integrity and Publishing Ethics, Wiley), Michael Willis (Senior Manager, Content Review, Wiley), Joanne Appleford-Cook, (Training Manager, Springer Nature) and Clare Hooper (Head of Journals, Liverpool University Press)
Participating in the Publisher's Panel at the Diversity in Peer Review: Improving the Author Experience conference (presented by Research Square and American Journal Experts (AJE)) with Kristin McNealy (Wiley), Emily Marchant (Cambridge University Press) and Dr. Ben Mudrak (American Chemical Society)
Reviewer Resources
In addition to the above, we would like to highlight helpful resources that Wiley has available to support you with our peer review journey:
Helpful advice for
Journal peer reviewers Book peer reviewers Becoming a Wiley peer reviewer
Register for our informative webinars from publishing experts
PDF and Video Guides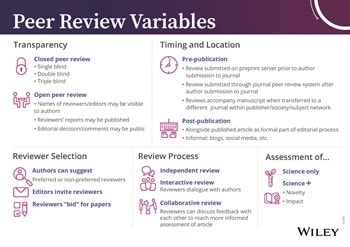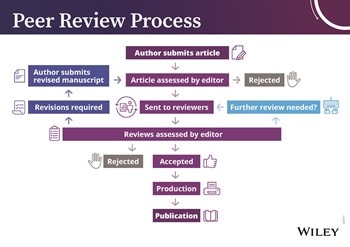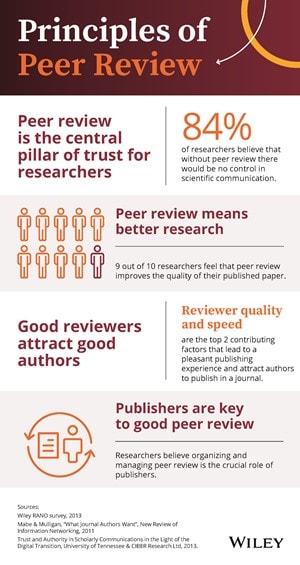 Already a peer reviewer?
Join over 135,000 Wiley Peer Reviewers on Publons to help you record, verify and showcase your peer review contributions.
If you are looking for specific help, check out our online support area with useful FAQs.