What is peer review?
Peer review is designed to assess the validity, quality and often the originality of articles for publication. Its ultimate purpose is to maintain the integrity of science by filtering out invalid or poor quality articles.
From a publisher's perspective, peer review functions as a filter for content, directing better quality articles to better quality journals and so creating journal brands.
Running articles through the process of peer review adds value to them. For this reason publishers need to make sure that peer review is robust.
Editor Feedback
"Pointing out the specifics about flaws in the paper's structure is paramount. Are methods valid, is data clearly presented, and are conclusions supported by data?" (Editor feedback)
"If an editor can read your comments and understand clearly the basis for your recommendation, then you have written a helpful review." (Editor feedback)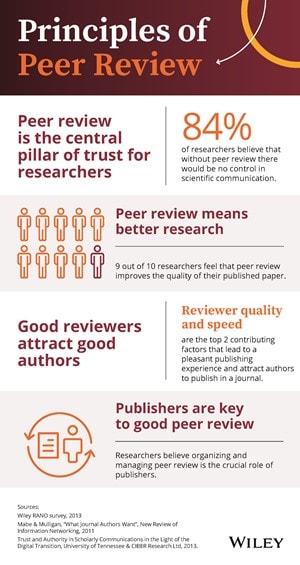 Peer Review at Its Best
What peer review does best is improve the quality of published papers by motivating authors to submit good quality work – and helping to improve that work through the peer review process.
In fact, 90% of researchers feel that peer review improves the quality of their published paper (University of Tennessee and CIBER Research Ltd, 2013).
What the Critics Say
The peer review system is not without criticism. Studies show that even after peer review, some articles still contain inaccuracies and demonstrate that most rejected papers will go on to be published somewhere else.
However, these criticisms should be understood within the context of peer review as a human activity. The occasional errors of peer review are not reasons for abandoning the process altogether – the mistakes would be worse without it.
Improving Effectiveness
Some of the ways in which Wiley is seeking to improve the efficiency of the process, include:
Reducing the amount of repeat reviewing by innovating around transferable peer review
Providing training and best practice guidance to peer reviewers
Improving recognition of the contribution made by reviewers
Visit our Peer Review Process and Types of Peer Review pages for additional detailed information on peer review.
Transparency in Peer Review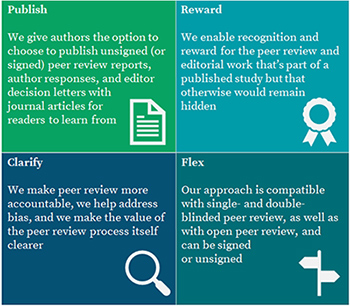 The new workflow enables transparent publication of an article's complete peer review process — from initial review and response through to revision and final publication decision. Alongside the published article, readers will be able to review a comprehensive peer review history. Each element of the peer review process will also be assigned its own digital object identifier (DOI), enabling future authors to easily reference and cite relevant peer review content.
Beginning with Wiley's prestigious journal Clinical Genetics, this is the first open peer review initiative to develop a scalable model applicable to diverse publishing processes. The comprehensive workflow provides alignment to best-practice data privacy regulation, ensuring the individual preferences of authors, peer reviewers and journals are met.