Increasing Transparency in Peer Review
Wiley is committed to increasing transparency in peer review, so readers have a view into the editorial decision-making process and the work of peer reviewers and editors that contributes to each article. In collaboration with Publons and ScholarOne (part of Clarivate, Web of Science), Wiley has launched a Transparent Peer Review pilot that currently has over 60 participating journals.
What is Transparent Peer Review?
Our Transparent Peer Review initiative enables authors to have an open publication of an article's entire peer review process, from the initial reviews to authors' revisions and the editor's decision, in order to bring greater accountability to the peer review process and recognition for the work of peer reviewers and editors.
Alongside each published article on Wiley Online Library, readers can view a comprehensive peer review history, hosted on Publons and accessible via a link from the "Open Research" section of the article. Each element of the peer review process is assigned its own digital object identifier (DOI), enabling readers to easily reference and cite relevant peer review content.
Authors have the option to decline Transparent Peer Review at submission. Reviewers can choose to remain anonymous or may sign their reports if they wish. Journals participating in the initiative may still use single or double anonymized review during the review process; the review materials are not made widely available until the article is published. In cases where a manuscript has been transferred from a journal that does not participate in Transparent Peer Review to a journal that does, any reviews submitted to the original journal will not be published.
To see what Transparent Peer Review looks like, check out this article from Journal of Neuroscience Research and its associated open review content.
Transparent Peer Review is available for the journals below: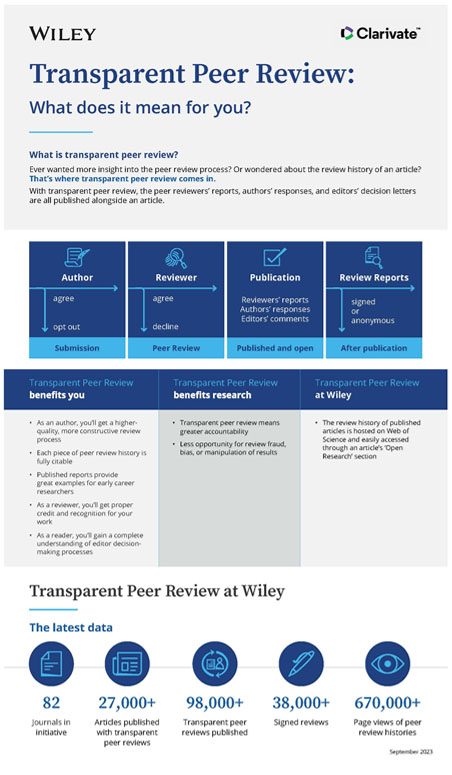 Futher information