Write, edit, and submit your next paper using Manuscripts for Mac
Manuscripts is an authoring tool for Mac which supports you from the beginning to the end of writing your project and assists you in the key steps in getting published. Manuscripts provides journal-specific manuscript templates and makes outlining and editing easy. A submission-ready manuscript can be created entirely within the app, and then directly submitted to your chosen journal for peer review. Manuscripts is free to download and use, with no limitations on usage.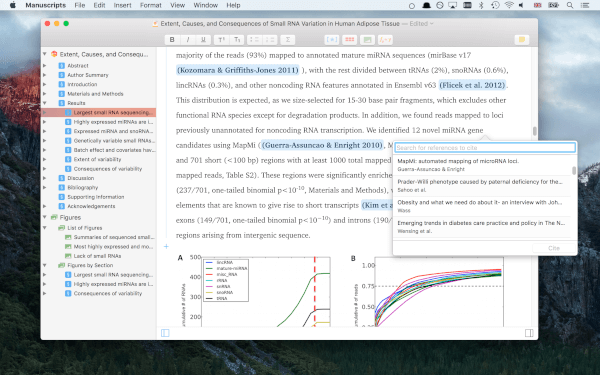 Manuscripts features include:
Import and export of Microsoft Word, LaTeX, or Markdown documents
Over 1,000 journal-specific templates to make formatting simple and easy
Import of reference libraries from a variety of popular tools, or direct citations with supported reference managers
Multi-panel figures, tables, and equations
Word counts
Drag-and-drop outlining and navigation tools to keep an organized high-level view
Ability to submit your manuscript directly from the app
Who can use Manuscripts?
Currently, Manuscripts is available as a free-to-use app for Mac OS. An open-source, PC-compatible version of Manuscripts is planned for release. You can sign up for the Manuscripts newsletter on the Manuscripts website, which will contain release alerts and related news.
How do I begin using Manuscripts?
Click the Download button on the Manuscripts website to download the Manuscripts app for Mac OS.
Where can I go for help using Manuscripts?
You can find more help on using Manuscripts on the Manuscripts Support page.