---
Write and edit your next paper with Overleaf Pro
Wiley has partnered with Overleaf a cloud-based authoring tool. With Overleaf Pro you and your co-authors can work together online (and offline) to write, and edit, your next paper.
General benefits of Overleaf include:
Write your paper anywhere, anytime – ability to work offline and upload later
Easily share and invite colleagues and co-authors to write and annotate an article
Collaboratively view and edit documents in either Rich Text or LaTeX
Prevents errors and having to deal with multiple versions of one document
Multiple reference tool linking options – saves you time with formatting references and citations
Prevents lots of email exchange between co-authors as avoids passing files around
How do I order Overleaf Pro?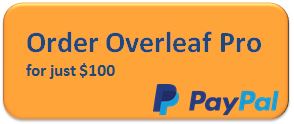 Step 1: Click here to order and pay for Overleaf Pro.
Step 2: Complete your Paypal payment. Once your payment has been received, you'll receive an immediate confirmation from PayPal, followed by an email from Overleaf to login or register (if you haven't already) once the purchase has been processed. Please note that this processing isn't automatic, and may take up to 72 hours to complete.
Step 3: That's it! You will now have access to Overleaf Pro. Tell your co-authors to join and write together.
What does Overleaf Pro include:
For $100 a year you get:
10 GB storage space
500 files per project
Unlimited private projects and collaborators. Ability to lock down your project, so that only people you invite, can access/edit the document
Save and restore history
Compare versions and see tracked changes
Tag, filter & clone projects
Integrated spell-check
Git access (beta)
Quick save to Dropbox
Priority technical support
How can I get more support?
New to Overleaf? View the Overleaf video tutorials. If you need any help, please contact Overleaf at support@overleaf.com or visit www.overleaf.com/contact.
Submitting your manuscript from Overleaf to Wiley Journals
For a number of Wiley journals, authors can use an Overleaf article submission template and submit directly from Overleaf to the journal's editorial office. More Information.