Page Content
Measuring Impact
Wiley offers authors a number of different tools to help you measure the impact of your work.
Kudos Service
As a Wiley author, you receive free access to Kudos, a service that helps you measure, monitor, and maximize the visibility and impact of your published articles.
Kudos helps you explain, add links to and share your work in a way that helps bring it to the attention of peers, the media and broader audiences both within and beyond your specialist community.
Your Kudos dashboard also allows you to measure the effect of these activities for ongoing performance improvement.
Register now for your free account at growkudos.com and follow these simple steps to start making an impact:
Claim your articles and publications*

Simply use the search box in Kudos to type in your name and keywords from your publication titles to find them, and claim them as yours. You can also invite your co-authors to register and claim publications that they have authored with you.

Explain your publication

Once you have claimed your publication, Kudos will lead you through steps, which will prompt you to explain your publication further. This can be done through adding a short title, impact statement and/or lay summary which can be enriched with links to further resources such as images, data, blog posts and videos. This will help improve the discoverability of your article and enhance reader's experience by exposing them to other material that helps give context to your work.

Share your publication

Kudos will provide you with a unique link which allows you to easily share details of your publication across the web (via your social media, blog posts or academic website, for example) allowing more people to find, understand and cite your work. You can find out more about sharing your work with the Wiley Promotional Toolkit.

Kudos, in partnership with Wiley, now offers a Shareable PDF (S-PDF) feature, providing you with a means to write and share a high-level overview for each of your publications, giving the broader context of your work and helping improve discoverability and understanding by a wide audience.

The S-PDF comprises bibliographic information, a plain language summary, and a link to the publisher version of record. It complements other initiatives designed to help researchers improve copyright-compliant visibility for their work on scholarly collaboration networks and via other PDF-based sharing platforms and media.

How does it work?
Generate your PDF: The 'Author view' of your publication in Kudos now includes a 'Share as PDF' option. This will generate a PDF version of the article summary you have created in Kudos.
Share it: You can upload this summary PDF to any website you choose, including your own website, institutional or subject repositories, scholarly collaboration networks (like ResearchGate, Academia.edu or Mendeley).
Track it: The summary PDF contains a trackable link to the full text of your article on the publisher's website. This means that you will now see statistics in your Kudos dashboard about views of your work that have resulted from sharing via ResearchGate, Academia.edu and Mendeley, enabling you to compare the effect of sharing on these websites with other efforts to share.
Measure your impact
Kudos allows you to see the impact of your sharing activity on your publication metrics including views, full text downloads**, Altmetrics and Web of Science ®Times Cited data.
Register with Wiley Author Services to receive a more streamlined service and additional benefits, including:
Automated upload to Kudos when your article publishes
Personalized email notifications when your article is available in Kudos
An enhanced dashboard that includes weekly full-text downloads for your article
For more information on Kudos:
* Kudos can be used for any publication for which a DOI (Digital Object Identifier) has been registered with CrossRef. Wiley assigns a DOI when your article, book or book chapter is made available electronically, but you don't need to know these to claim your publications.
**Available for authors who are also registered with Wiley Author Services
Altmetric
The Altmetric service is available to all journals on Wiley Online Library and allows you to:
Freely track online activity and discussions about your individual scholarly papers from social media sources, including Twitter, Facebook and blogs, the mainstream media and online reference managers such as Mendeley and CiteULike
See the attention that your article is receiving in real-time – score is open for everyone to see, follow, and understand
For more information, visit our Altmetric page on Wiley Online Library.
Article Citation Tracking
Track citations to your article by clicking on the 'Cited By' notation on the article.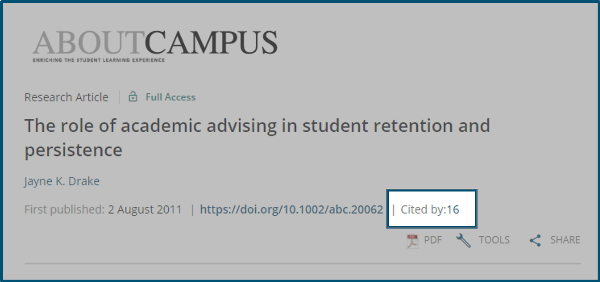 You can also 'Export Citations' and sign up to 'Track Citations' through the 'Tools' menu of the article.
You can also see the number of citations your article receives on your Author Services Dashboard.