Wiley's Best Practice Guidelines on Publishing Ethics Editorial Standards and Processes
Page Content
1. Authorship
The list of authors should accurately illustrate who contributed to the work and how. All published work should be attributed to one or more authors. All those listed as authors should qualify for authorship by standards that are appropriate for the scholarly community that the journal serves. We suggest using the criteria developed by the International Committee of Medical Journal Editors, which are presented below and can be found online.
Journals should adopt clear authorship criteria, and explain these criteria in their instructions to authors.
Journals should require authors to confirm that they and their co-authors all meet the journal's criteria for authorship, and that nobody who meets these criteria has been omitted from the list.
Journals should consider requesting that authors provide a short description of each author's contribution in an Acknowledgment.
Journals should request that contributions from anyone who does not meet the criteria for authorship are listed, with permission from the contributor, in an Acknowledgments section (for example, to recognize contributions from people who provided technical help, writing assistance, or a department chairperson who provided general support).
Journals should ask corresponding authors to confirm they have received written authorization from all their co-authors for publication of the article. The Copyright Transfer Agreements and Exclusive Licence Agreements used by Wiley incorporate this.
Journals should require that, prior to submitting their article, all authors agree the order in which their names will be listed in their manuscript.
Journals should ask the corresponding author to ensure that all the journal's administrative requirements, such as providing details of authorship, ethics committee approval, clinical trial registration documentation, and gathering conflict of interest forms and statements, are properly completed.
Journals should consider sending copies of all correspondence with the corresponding author to all listed authors. They should ensure as far as possible that emails are not returned because of invalid email addresses.
Journals should encourage authors to use tools that remove potential ambiguity around author names, such as the unique persistent digital identifiers provided by ORCID.
Criteria for authorship
The International Committee of Medical Journal Editors provides definitions of authors and contributors that are applicable in many instances beyond medical publishing. It recommends that authorship should be based on the following four criteria:
Substantial contributions to the conception or design of the work; or the acquisition, analysis, or interpretation of data for the work; AND
Drafting the work or revising it critically for important intellectual content; AND
Final approval of the version to be published; AND
Agreement to be accountable for all aspects of the work in ensuring that questions related to the accuracy or integrity of any part of the work are appropriately investigated and resolved.
All those designated as authors should meet all four criteria for authorship, and all who meet the four criteria should be identified as authors. Those who do not meet all four criteria should be acknowledged.
Authors collaborating on multidisciplinary and interdisciplinary work may have different and perhaps nonoverlapping areas of expertise. However, authors should still be able to stand "accountable" for ensuring investigation and resolution of "questions related to the accuracy or integrity of any part of the work."
By these criteria, acquisition of funding alone, collection of data alone, or general supervision of the research group alone does not constitute authorship. Also, each author should have participated sufficiently in the work to take public responsibility for appropriate portions of the content. This also applies to all authors designated within large multi-author groups and for on those occasions when authors report work on behalf of a larger group of investigators, upon which the International Committee of Medical Journal Editors provides guidance.
Journals should encourage authors of intercultural research to consider appropriate attribution for traditional knowledge, to the extent that this attribution does not compromise any agreed assurances of anonymity. This may include "traditional knowledge" notices, or citation of indigenous sources (such as people or community groups) or other cultural sources of knowledge by name within the text. In some fields, such as anthropology, appropriate attribution may require sharing authorship with intercultural collaborators and this may differ from the approach recommended by the International Committee of Medical Journal Editors. More information is at the Australian Institute of Aboriginal and Torres Strait Islander Studies web site.
2. Authorship disputes
To manage authorship disputes, editors should refer to the flowcharts from COPE and "How to spot authorship problems."
3. Funding
Journals should request that authors list all funding sources in an Acknowledgments section. If there is no specific funding, then this should be stated. The role of the research funder beyond providing funding itself should also be described. It may be important to disclose, for example, if a commercial organization funded the study, designed the study, and also recruited the investigators.
Other sources of support should be clearly identified in the Acknowledgments section of the manuscript. For example, these might include funding for open access publication, or funding for writing or editorial assistance, or provision of experimental materials.
4. Peer review
The merits of different peer-review systems (for example, revealing peer reviewers' identities to authors and/or attempting to mask authors' identities from peer reviewers) have been the subject of considerable debate and study, for example, as conducted by the Publishing Research Consortium and Sense About Science. However, there is no clear evidence of the superiority of any one system over another. The benefits and feasibility of different systems probably vary between disciplines. Editors should choose a peer-review system that best suits their journal.
COPE has developed Ethical Guidelines for Peer Reviewers, to which Editors and their editorial board can refer for guidance.
Further guidance on the ethics of peer review is available from many sources. For example, Rockwell presents guidance and EuCheMS provides guidelines. Hames's book "Peer Review and Manuscript Management in Scientific Journals: Guidelines for Good Practice" presents useful recommendations and checklists.
Journals should have clearly defined and communicated policies on the type of peer review used, for example, single-blinded, double-blinded, "open," or post-publication.
Journals should make it clear to readers whether peer review varies between types of article. For example, readers need to know if editorials and letters are not peer reviewed but original articles and reviews always are. Journals should also be clear if they operate a triage process in which submissions that are out of scope or otherwise inappropriate may be rejected or returned to the author without external peer review.
Editors should apply consistent standards in their peer review processes, including for special issues or supplements, and where peer review has been managed by a guest editor.
Editors should ensure confidential handling of manuscripts, with no details being disclosed to anyone except the peer reviewers without the permission of the author. If discussions between an author, editor, and peer reviewer have taken place in confidence they should remain in confidence unless explicit consent has been given by all parties, or unless there are exceptional circumstances (for example, when they might help substantiate claims of intellectual property theft during peer review).
Editors should ensure that all those who carry out peer review on behalf of the journal understand and adhere to the need for confidentiality relating to the peer-review process.
Editors should ask peer reviewers to disclose any conflicts of interest when they respond to an invitation to review and also when they submit their review (since conflicts may only be identified after reading the manuscript). Editors should ask that reviewers decline invitations where circumstances might prevent them writing an unbiased review. Examples of potential conflicts of interest include when they have collaborated with the authors recently, when they are based in the same institution as the authors, when they are in direct competition with the authors, when they have personal conflict or close personal relationship or association with the authors, or when they have a financial interest in the manuscript.
Editors should request that invited peer reviewers inform them if they delegate peer review.
Editors should only ask authors to add citations to their papers when there is a strong scholarly rationale for this.
To create an efficient, effective peer-review process, editors should:
Establish and maintain a secure database of suitably qualified peer reviewers that is compliant with data protection legislation.
Monitor the performance of peer reviewers for quality and timeliness. Peer reviewers who repeatedly produce poor quality, tardy, abusive, or unconstructive reviews should not be used again.
Carefully consider giving authors the option to nominate peer reviewers or to request that particular individuals do not peer review their paper. If the journal allows authors to recommend reviewers, editors should remind authors that they must avoid nominating peer reviewers who have a conflict of interest. Editors are under no obligation to accept the authors' nominations. Editors should check the qualifications of all reviewers before issuing and invitation to review. It is especially important to verity the qualifications of potential reviewers who have been recommended by authors. Editors should request an ORCID iD (an online digital identifier that distinguishes researchers from one another) from reviewers whenever possible, and avoid using reviewers whose backgrounds and institutional affiliations cannot be determined by a simple web search.
Give peer reviewers explicit guidance on their role and responsibilities, and consider encouraging the use of reporting guidelines to check completeness of reporting in a systematic way.
Peer reviewers can play an important role in identifying misconduct such as possible data fabrication, falsification, plagiarism, image manipulation, unethical research, biased reporting, authorship abuse, redundant or duplicate publication, and undeclared conflicts of interest. Editors should remind peer reviewers of this role, and of their requirement to:
Respect the confidentiality of peer review, and not discuss the manuscript or contact the authors or any other people about the manuscript.
Declare any conflicts of interest.
Provide an objective and constructive explanation for their recommendation.
Not allow their decision on a manuscript to be influenced by its origin or authorship.
Avoid requesting that the author cites the peer reviewer's own papers, unless there is a strong scholarly rationale for this.
Not reproduce information or any part of the manuscript under review in any of their own work prior to publication by the authors.
Only agree to peer review manuscripts within their expertise and within a reasonable timeframe.
Not delay publication.
Not use insulting, hostile, or defamatory language.
Destroy submitted manuscripts and all related material after they have reviewed them.
5. Timing of publication
Editors should aim to ensure timely peer review and publication and should avoid unnecessary delays. Editors should consider how best to share information with authors about any delays that occur. Online publication can provide the fastest route to publication and, therefore, to placing peer reviewed research (and other) information in the public domain.
6. Editors and journal staff as authors
Editors or board members should not be involved in editorial decisions about their own scholarly work. Journals should establish and publish mechanisms and clearly defined policies for handling submissions from editors, members of their editorial boards, and employees. We recommend that:
Editors and editorial team members are excluded from publication decisions when they are authors or have contributed to a manuscript.
A short statement may be useful for any published article that lists editors or board members as authors to explain the process used to make the editorial decision.
Some journals will not consider original research papers from editors or employees of the journal. Others have procedures in place for ensuring fair peer review in these instances.
7. Conflicts of interest
Editors, authors, and peer reviewers should disclose interests that might appear to affect their ability to present or review work objectively. These might include relevant financial interests (for example, patent ownership, stock ownership, consultancies, or speaker's fees), or personal, political, or religious interests.
The International Committee of Medical Journal Editors definition of conflicts of interest is as follows:
"A conflict of interest exists when professional judgment concerning a primary interest (such as patients' welfare or the validity of research) may be influenced by a secondary interest (such as financial gain). Perceptions of conflict of interest are as important as actual conflicts of interest."
Strict policies preventing people with conflicts of interest from publishing might encourage authors to conceal relevant interests, and might therefore be counterproductive.
Journal editors, board members, and staff who are involved with decisions about publication should declare their interests. Journals should consider publishing these on their website and updating them as required, as well as disclosing how conflicts of interest were managed for specific papers.
Editors should clearly explain what should be disclosed, including the period that these statements should cover (for example, 3 years). Editors should ask authors to describe relevant funding, including the purpose of the funding (for example, travel grant and speaker's fees), and to describe relevant patents, stocks, and shares that they own.
Editors should publish authors' conflicts of interest whenever they are relevant, or a statement of their absence. If there is doubt, editors should opt in favor of greater disclosure.
If authors state that there are no conflicts of interest, editors should publish a confirmation to this effect.
Editors should manage peer reviewers' conflicts of interest. An invitation to review a manuscript should be accompanied by a request for the reviewer to reveal any potential conflicts of interest and a request for the peer reviewer to disqualify or recuse themselves when these are relevant.
When editors, members of editorial boards, and other editorial staff are presented with papers where their own interests may be perceived to impair their ability to make an unbiased editorial decision, they should withdraw from discussions, deputize decisions, or suggest that authors seek publication in a different journal.
COPE has published flowcharts that illustrate a suitable process for investigations of suspected undisclosed conflicts of interest.
Wiley uses a number of forms to capture conflicts of interest statements in online submission and peer review systems (for example, Figure 1). The International Committee of Medical Journal Editors has created a uniform disclosure form for conflicts of interest.
Figure 1 Typical form to capture conflicts of interest during manuscript submission (click for PDF of larger image)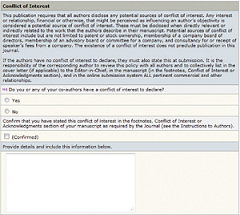 8. Libel and defamation
Wiley has published some overview guidance about libel and defamation.
Editors should be alert to language in both submitted manuscripts and also in peer review reports or correspondence which could give rise to legal action for defamation or negligent misstatement. Such language, which can be directed at corporate entities and associations as well as individuals, should not appear within published articles and should be removed from any peer review report or correspondence that is passed on to the author. If in doubt, editors who work with Wiley should seek advice from Wiley.
9. Editorial independence and commercial issues
The Council of Science Editors presents discussion of editorial independence in its White Paper on "Promoting Integrity in Scientific Journal Publications." The relationship between the editor and the journal owner and publisher should be set out in a formal contract. It may be useful to establish a mechanism to resolve disputes before one is needed in order to help resolve any disagreements speedily.
Journal owners (whether learned societies or publishers) should avoid influencing editorial decisions.
Editors' decisions about whether to publish individual manuscripts submitted to their journal should not be influenced by pressure from the editor's employer, the journal owner, or the publisher. Ideally, the principles of editorial independence should be set out in the editor's contract.
It is appropriate for journal owners/publishers to discuss general editorial processes and policies with journal editors (for example, whether or not a journal should publish a particular type of article), but they should not get involved in decisions made by the editor about individual articles.
It is impossible to completely insulate editorial decisions from issues that may influence them, such as commercial considerations. For example, editors will know which articles are likely to attract offprint or reprint sales. Even so, we suggest that editors, journal owners, and publishers establish processes that minimize the risk of editorial decisions being influenced by commercial, personal, or political factors.
Editors should be free to judge all submissions on their scholarly merit and on their potential importance to the community that the journal serves.
Editorial decisions about individual papers should remain separate from the sale of advertising.
Journals that publish special issues, supplements, or similar material that is funded by third- party organizations should establish policies for how these are handled. The funding organization should not be allowed to influence the selection or editing of submissions, and all funded items should be clearly identified.
Journals should establish policies so that editorial decisions cannot be influenced by payment of an open-access-article publication charge or other type of payment made by authors.
Further discussion of editorial independence is presented by the Council of Science Editors in their white paper on integrity and in the COPE Code of Conduct for Journal Publishers.
Commercial issues, supplements, and other funded publications
Wiley sales teams are not permitted to become involved with peer review and the editorial decision-making process. Our sales teams use editorial information only after editorial decisions are finalized. The extent of editorial information available and the timing of its disclosure are agreed for each journal in consultation with the journal owner and editor. Decisions about what can be sold are also agreed in consultation with the journal owner and editor (for example, the positions available for journal advertising within or adjacent to an article, collected in specific positions within the journal, and online, and whether it is permissible to sell reprints of papers published online prior to print).
Journals may choose to publish supplements, special issues, or similar publications that are funded by a third party (for example, a company, society, or charity). Journals should present readers with the names of the organizations that provided funding, and any conflict of interest statements.
Journals should not permit funding organizations to make decisions beyond which publications they choose to fund. Decisions about the selection and editing of contents to be published should be made by the editor (or co-editors) of the funded publication.
A journal editor may elect to use "guest" or external editors to support the publishing of supplements, special issues, or similar publications. In this case, it is the journal editor's responsibility to disclose the journal policy and ensure it is implemented by those external editors.
Journals should reserve the right not to publish any funded publication that does not comply with their requirements.
10. Academic debate
Journals should facilitate debate.
Journals should encourage correspondence and constructive criticism of the work they publish.
If an item of correspondence discusses a specific article, the journal should invite the authors of the work to respond before the correspondence is published. When possible, the correspondence and the authors' response should be published at the same time.
Authors may choose not to respond to this invitation. They do not have a right to veto comments about their work that the editor judges to be constructive. They may advise editors accordingly about unconstructive comments.
11. Appeals
Journals should consider establishing and publishing a mechanism for authors to appeal editorial decisions, to facilitate genuine appeals, and to discourage repeated or unfounded appeals.
Editors should allow appeals to override earlier decisions only when new information becomes available (for example, additional factual input by the authors, revisions, extra material in the manuscript, or appeals about conflicts of interest and concerns about biased peer review). Author protest alone should not affect decisions. Reversals of decisions without new evidence should be avoided.
Editors should mediate all exchanges between authors and peer reviewers during the peer-review process. Editors may seek comments from additional peer reviewers to help them make their final decision.
Journals should state in their guidelines that the editor's decision following an appeal is final.
Journals should consider establishing a mechanism for authors and others to comment on aspects of the journal's editorial management, perhaps via the publisher or a third-party.
12. Corrections
Journals should encourage readers and authors to notify them if they find errors, especially errors that could affect the interpretation of data or information presented in an article. When an error is identified:
Journals should work with authors and their publisher to correct important published errors.
Journals should publish corrections when important errors are found, and should consider retraction when errors are so fundamental that they invalidate the work.
Corrections arising from errors within an article should be distinguishable from retractions and statements of concern relating to misconduct.
Corrections should be included in indexing systems and linked to the original article.
Corrections should be free to access.
Retractions and Expressions of Concern are discussed in other sections of these guidelines.
13. Retractions and Expressions of Concern
Wiley has published general advice on publishing retractions and answers to frequently asked questions. All Retraction statements published by Wiley are reviewed and approved by Wiley lawyers.
COPE has also published guidelines for retracting articles.
Retractions should be published when errors could affect the interpretation of data or information, or if work is proven to be fraudulent, or in other cases of serious ethical misconduct (for example, duplicate or redundant publication, failure of all authors to agree to publication, or plagiarism).
Expressions of concern may be published if editors have well-founded concerns or suspicions and feel that readers should be made aware of potentially misleading information. Editors should do so with caution: an expression of concern carries the same risks to a researcher's reputation as a retraction, and it is often preferable to wait to publish a retraction when a definitive judgment has been made by an independent investigation.
14. Withdrawal of articles
Withdrawal or removal of articles is strongly discouraged.
The practice of removal, deletion, or obscuring of an article or part of an article should be limited to circumstances such as:
Legal infringements, defamation, or other legal limitations; or
False or inaccurate data, especially those that if acted upon could pose a serious health risk.
Even in these circumstances, a retraction statement must still be published to ensure that bibliographic information about the removed article is retained for the scientific record, and an explanation must be given about the circumstances of removal or withdrawal.
Readers are also directed to the sections in this article which discuss Retractions and Expressions of Concern.
How to publish Retractions and Expressions of Concern
Guidelines on retracting articles, written by COPE, are available. Similar to a Correction or an Erratum, the title of a Retraction or Expression of Concern should include the words "Retraction" or "Expression of Concern" as well as information to identify the article that it refers to. It should be published on a numbered page (print and electronic) and should be listed in the journal's table of contents. It should cite the original article and link electronically with the original electronic publication wherever possible. It should enable the reader to identify and understand why the article is being retracted, or should explain the editor's concerns about the contents of the article. It should be in a form that enables indexing and abstracting services to identify and link to original publications. Finally, it should be free to access.
15. Data protection legislation
Journals should comply with data protection legislation. Editors who work with Wiley that have any concerns about data protection should seek advice from Wiley.
Download the full PDF