Accelerating and celebrating openness with
Open Access Week 2018

Now in its 11th year, Open Access Week is a global event that celebrates and promotes open access and related topics. The theme of this year's Open Access Week, which runs from October 22-28, is "Designing Equitable Foundations for Open Knowledge."
Wiley is delighted to support Open Access Week 2018 with a week-long program of activities.
Our Activities for Open Access Week 2018
Publishing daily blog posts on The Wiley Network about related topics, including Wiley's commitment to open access, our open access agreements with consortiums, and the latest Wiley Author Story campaign and its focus on open research.
Posting about all of our activities using the #OAWeek hashtag on the @WileyOpen and @wileyinresearch Twitter accounts, and the Wiley Open Research Facebook page. We'll also be sharing links to, and further information about, the open access resources and tools available to you.
On Thursday 25th October Wiley's Liz Ferguson will be taking part in an OASPA webinar on the economics and sustainability of open access. Find out more and register for free here.
Open Access Resources
| | |
| --- | --- |
| Journal Author Resources | Wherever you are on your publishing journey, our Author Resources pages are with you every step of the way, with everything you need to know to prepare, submit, publish and promote your next article. |
| Wiley Open Access | Thinking about publishing open access with Wiley? Learn more about Wiley's open access program and browse the list of Wiley Open Access journals. |
| Wiley Open Research | At Wiley, we support the growing movement to make science more open, because this leads to a fairer, more efficient and accountable research landscape, which will ultimately drive a more effective and faster pace of discovery. Learn more about open research initiatives at Wiley. |
| Author Compliance Tool | Not sure about your institution's or funding agency's open access policy? Wiley makes it easy to ensure compliance – use our Author Compliance Tool to check if your journal of choice complies with the policies of your funder or institution: |
Additional OA Resources
Open access articles are freely available to read, download and share. There are a number of ways you can make your research open access with Wiley – for details watch our video about Wiley's open access options:
Find out more about the benefits of making your data openly available in our open data video:
All of Wiley's fully open access journals publish open access articles under a Creative Commons license. With Creative Commons licenses, the author retains copyright and the public can reuse the content: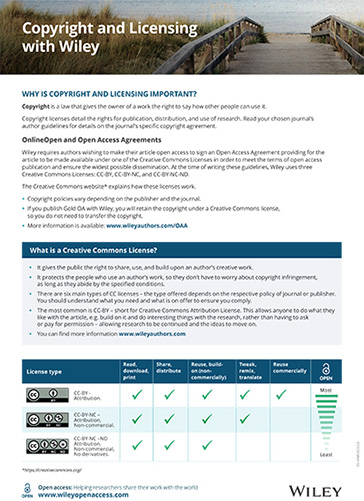 Share Your Story
See how open research helped Ella turn her vision – creating social robots to help those with dementia – into a reality. What drives your research forward? Share your story on Twitter or Instagram with #MyOpenScienceStory, or on our website.