Open access agreement for authors at eligible Spanish institutions
Publish open access with Wiley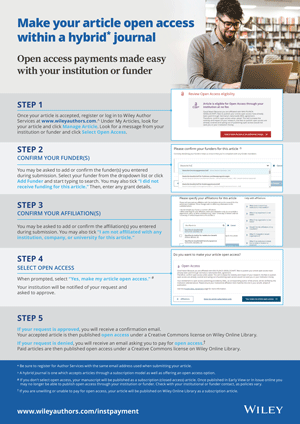 Beginning 12 April 2021, authors affiliated with Conference of Rectors of Universities (CRUE) and the Higher Council for Scientific Research (CSIC) may publish primary research and review articles as open access in any of Wiley's hybrid journals at no charge to the author.
To publish without having to pay additional Article Publication Charges (APCs), the article's corresponding author must be from an eligible institution and the article must have been accepted on or after 12 April 2021. (View eligible Spanish institutions)
To be eligible:
Your manuscript must have been accepted on or after 12 April 20211
You must be the corresponding author who is affiliated with an eligible Spanish institution at the point of acceptance2
All primary research and review articles qualify3
You must order hybrid open access by using our order workflow as described below4
Why publish open access?
High
Visibility
Articles are made freely available
Easy
Compliance
Meet open access mandates automatically
Copyright
Retention
Under a Creative Commons license
Automatic
Deposit
To PMC for appropriate articles
How to publish your article open access
| | |
| --- | --- |
| Submit Your Article | Submit your article to a journal that offers hybrid open access (View list) |
| ↓ | |
| Log In/Register with Author Services | Once accepted, register or log in to Author Services and click Manage Article |
| ↓ | |
| Confirm Your Funder(s) | Enter your funding information or confirm the funder(s) you entered during submission |
| ↓ | |
| Confirm Your Affiliation(s) | Enter your institutional affiliation(s) or confirm the affiliation(s) you entered during submission |
| ↓ | |
| Select Open Access | Once you've confirmed your affiliation(s) and funder(s), click Make my article open access |
| ↓ | |
| Provide Your Contact Details | Enter your contact details and click to submit |
| ↓ | |
| That's it! | Once your eligibility has been verified, your institution will cover the Article Publication Charge |
Your article will be made open access immediately on publication.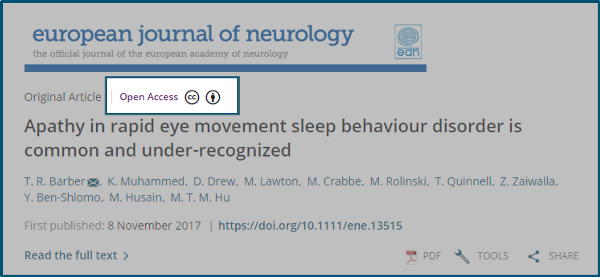 Questions:
Please contact your university or library with questions.
1For eligible articles accepted but not yet published from 1st Jan 2021 until 12th April 2021, please contact your institution/library for more information.
2Eligibility is subject to when the institution has formalized their participation in the agreement. If you are no longer affiliated with an eligible institution at the point of acceptance of your paper, you do not qualify.
3Other article types e.g. letters, editorials etc. are excluded.
4If you don't order open access initially, your manuscript will be published under the traditional closed access model. You may order open access retroactively, but once your paper is published in Early View or In Issue online you are no longer eligible to publish open access at no charge.