Article Status Tracking Guide
Follow our PDF guide to ensure your article publishes quickly.
The Publication Process
Once accepted, we publish your article as quickly as possible.
If your manuscript was accepted for publication in a Hindawi journal, see https://www.hindawi.com/publish-research/authors. If it will be in a Wiley journal, continue below.
Your publication checklist:
Choose whether to publish open access
Sign your relevant copyright license
Review and return your article proof as quickly as possible, to ensure prompt publication
Track your article through the publication process
Finally, remember to share your article with colleagues and peers
Review our PDF and video for more information, or read the text further below.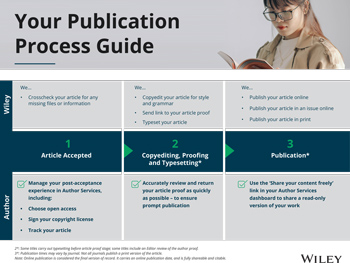 1: Article Accepted
While we crosscheck your article for any missing files or information, manage your post-acceptance experience in Author Services, including:

Choose whether to publish open access
Sign your copyright license*
Track your article through the publication process
* Failure to sign the license agreement will result in the article being withdrawn from publication.
2: Copyediting, Proofing & Typesetting*
We copyedit your article for style and grammar, then send you a link to your article proof.
Please accurately review and return your article proof as quickly as possible – to help with prompt publication.
We'll then typeset your article for publication.
* Some titles carry out typesetting before article proof stage; some titles include an Editor review after the author proof.
3: Publication
We publish your article online as quickly as possible, and then allocate your article to an online issue. Where relevant, print publication of your article will follow*.
As soon as your article publishes online, we'll let you know. It will include an online publication date and DOI.
Start sharing your article** – using the 'Share your content freely' link in your Author Services dashboard.
More guidance on article sharing and promotion is available here.
* Publication times may vary by journal. Not all journals publish issues in print. ** Read-only version.
General Resources
If you need to change the author list on your article, please fill out the Authorship Change Form and contact the editorial office or production office with your request.

If you discover an error in your article after publication, please refer to our Corrections Guidelines.

Journal reprints information is available here.