Article Status Tracking Guide
Follow our PDF guide to ensure your article publishes quickly.
The production process
Before your accepted article is published online, it goes through our production process. Wiley does everything possible to publish your article quickly and to the highest possible standard, as well as taking you through what to expect at each stage of the process.
Your publication checklist:
Provide accurate proofreading and clearly mark any corrections as soon as possible.
When prompted, ensure you acknowledge any funding support.
Choose and arrange payment for open access as required.
Sign a license agreement.
Watch the video below to learn about the essential production steps for your paper.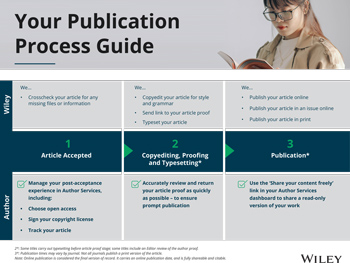 Step 1: Accepted article received in production
Your article is received for production to begin.
You (corresponding authors) receive an email asking you to login or register with Author Services and ensure your article is added to "My Dashboard." At this point, navigate to the "Amend My Details" page and choose whether you wish to:

Publish your article open access with Wiley's hybrid open access option (if the journal is not fully open access).
Sign a license agreement for your article.
Track the publication status of your article (request to receive an e-mail alert at any, or all of the tracked stages of production).
Link your Author Services account with your ORCiD.

Some journals offer publication of your Accepted Article* (also known as Accepted Version), where articles are published online immediately after acceptance, before copy-editing and after your acceptance of the Accepted Version Terms and Conditions. Accepted Article papers are downloadable and citable.
Step 2: Copyediting and typesetting
We copyedit your article for style, grammar and nomenclature, to bring the standard of the text up to the level that your research deserves.
We also typeset your article, to make it look great.
Step 3: Proofing and corrections
Proofing
After copyediting and typesetting the article goes back to you. This is your chance to give your article a last look before we publish.
A link to article proofs is provided via email.
Accurately proofread your article and clearly mark any corrections online as soon as possible.
Corrections processed
Your corrections are received and then processed.
If your journal features Early View*, there may be a delay after the corrections are received, before your article appears online.
Step 4: Early View Publication
Early View* (Online Version of Record) articles are published on Wiley Online Library before inclusion in an issue. You can now view your published article online.
No further changes to your article are possible from this point.
Access to the online PDF is considered your e-Offprint or PDF Offprint.
Your Early View article is fully citable and carries an online publication date and DOI for citations.
You can now generate a unique sharing link to share access to your article (see 'Access and sharing' below).
Step 5: Issue published online
The issue containing your article is now available online.
The print publication of your article in an issue may precede or follow this stage.
Step 6: Access and sharing
When your article is published online:
You receive an email alert (if requested).
As the author, you retain free access (after accepting the Terms & Conditions of use) to view your article.
You can use the "Share Article" button on your Author Services dashboard to generate a unique sharing link to a full-text, read-only version of your article that can be shared with unlimited people.
You can order reprints of your article; instructions are sent at proofing stage for participating journals. To order reprints directly, locate your journal in the following list and follow the corresponding link to the order form:
Reprints Journal List
How can you share your article? Download our Wiley Article Sharing Guidelines PDFand read our Article Sharing Policy.
Now is the time to start promoting your article. Find out how to do that here.
If you need to change the author list on your article, please fill out the Authorship Change Form and contact the editorial office or production office with your request.
*Only available for certain journals