Find the right home for your article with Wiley's manuscript transfer options
Journal Transfer Networks
Many Wiley journals participate in transfer or referral networks. If your manuscript is not accepted, the journal's Editor may recommend you transfer your paper to a more suitable Wiley journal within their transfer network. If you accept the transfer invitation, your files (including peer review reports, if applicable) will be transferred to the new journal on your behalf, saving you the work of resubmitting your manuscript to a new journal. If you are interested in transferring to a Gold open access journal suggested by the Editor, you will receive an automatic 20% discount on the article publication charge. Here's a quick guide to how this works: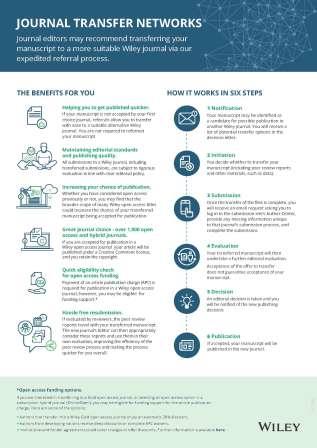 Wiley Transfer Desk Assistant
Wiley's Transfer Desk Assistant (TDA) saves you valuable time by helping you find relevant journals and streamlining the resubmission process. If your submission to a participating Wiley journal is unsuccessful, TDA will use machine-learning technology to identify suitable alternate journals within Wiley's portfolio. You'll then receive an email with a list of up to five Wiley journals that match your manuscript and an offer to resubmit to one of those journals through a streamlined process.
If you accept the invitation to transfer your manuscript, a dedicated team at Wiley will start the submission at the new journal on your behalf, including transferring over all files and peer review reports, if applicable. You'll simply need to log in to the new journal's submission site and check the details of your manuscript before submitting; if you wish to do so, you may also edit or update your files before submitting.